According to data from the ONS, UK house prices have risen by a huge 10% in the year to May 2021. This sharp rise in prices is welcome news to property owners, who can enjoy the additional spending power and financial security that comes with this price inflation.
However, those looking to find their first step on the property ladder are understandably viewing this increase with dismay. In just a few generations, owning your own home has gone from an easily achievable aim that can be attained with a couple of years of moderate saving, to a dream that is simply out of reach for many.
It's true that there are now many more ways of saving than previous generations had access to, such as popular Lifetime ISAs which are specifically designed to help young people save for a deposit, but with house prices rising much faster than wages, younger generations are understandably worried.
The UK housing market is certainly a tough place for prospective homeowners at the moment, but is this pattern repeated elsewhere? In fact, it seems that 2021 has seen house prices rise in many countries all over the world, with only 3 of 40 OECD countries seeing a fall in property values.
With this in mind, we wanted to find out just how tough it is to get on the property ladder for prospective homeowners in different parts of the world. Having analysed several different factors, from the average wages to average property prices, and even the cost of utilities, we've found the most and least affordable countries for people to buy their first home. These factors have all been combined into a single Property Affordability Score, which we've used to rank the countries from the most affordable to the least.
The ten countries where the property ladder is most accessible
These are the best countries for first-time buyers to find an affordable home and get on the property ladder. They have been ranked according to their overall Property Affordability Score, with 1 being the most affordable and 50 being the least. Did your country make the top 10?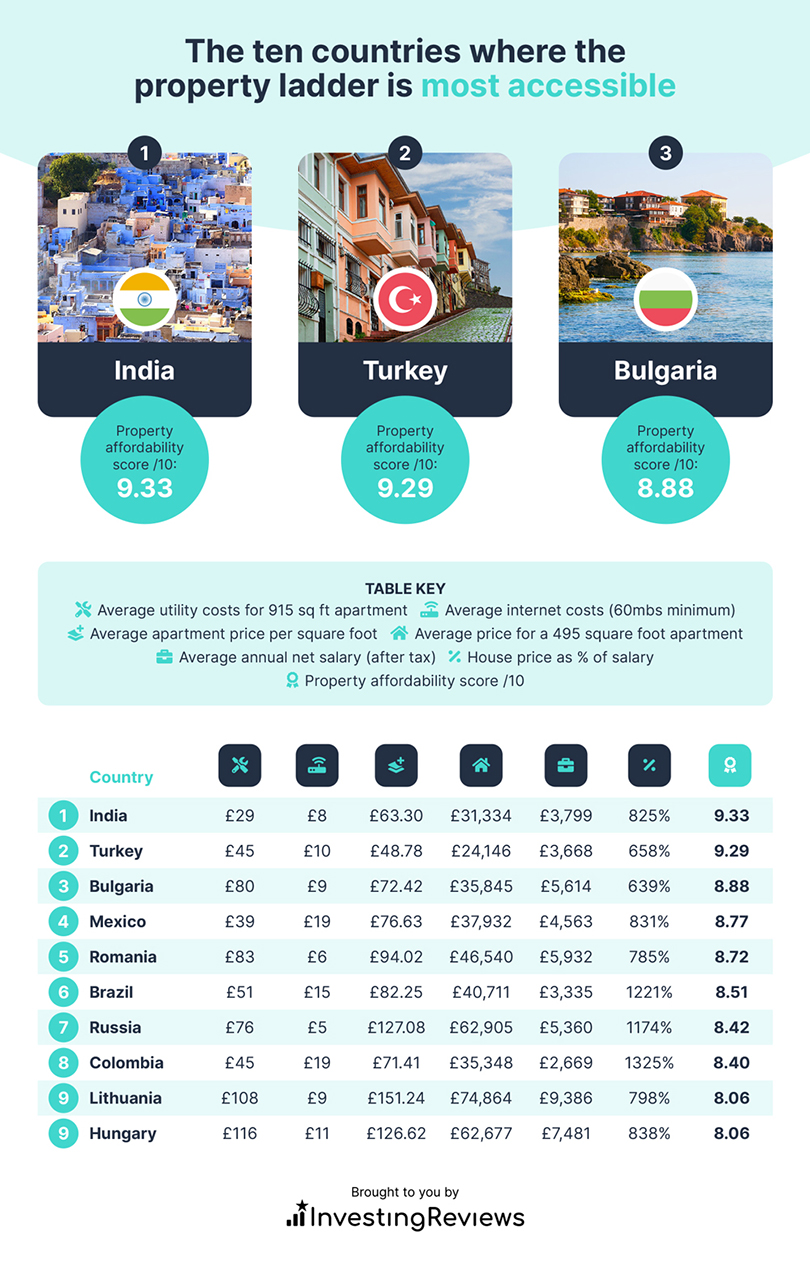 1. India Property –  Affordability Score: 9.33
India has the most affordable housing of all the G20, OECD and European Union countries, with a score of 9.33! Relatively low average salaries are offset by equally low property costs per square metre, with very affordable utility costs increasing affordability.
2. Turkey Property – Affordability Score: 9.29
In second place, with a property affordability score of 9.29, is Turkey. A relatively low house price to salary ratio helps to keep homeownership a realistic prospect for first-time buyers in the country.
3. Bulgaria Property – Affordability Score: 8.88
Bulgaria takes third place with a property affordability score of 8.88, making it a great place for prospective buyers who will be able to take advantage of reasonable property prices and affordable bills, despite the country having a low average salary.
The ten countries with the least affordable homes
These are the countries where first time buyers will have the most trouble affording to buy their own homes. High property prices, low salaries and expensive bills all play a part in determining which countries are the most unaffordable.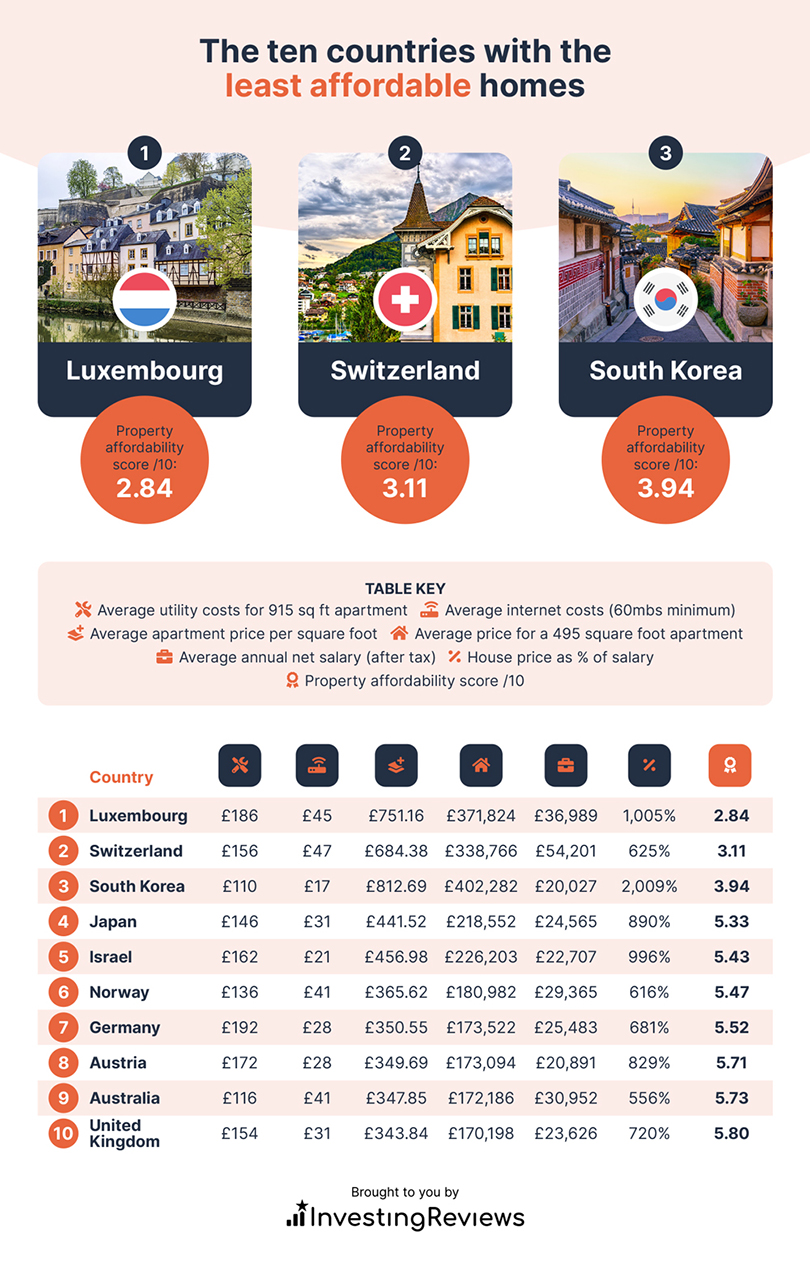 1. Luxembourg Property – Affordability Score: 2.84
The least affordable country for first-time buyers is Luxembourg, which received a Property Affordability Score of just 2.84. There's not a lot of space in this tiny European nation, which might go some way to explaining the very expensive cost of apartments, which on average cost as much as £751.16 per square foot.
2. Switzerland Property – Affordability Score: 3.11
Switzerland has the second most unaffordable property market, receiving a Property Affordability Score of 3.11. This wealthy country, nestled in the beautiful Alps, benefits from a pristine environment and is a highly desirable location for its Alpine scenery and high standard of living, which also helps to drive property prices up.
3. South Korea Property – Affordability Score: 3.94
South Korea came third from the bottom, with a Property Affordability Score of 3.94. With relatively low salaries and high apartment costs, South Koreans might find it difficult to get their first step onto the property ladder. However, once they do manage to acquire their home, they will benefit from much more reasonable utility and internet costs.
Assessing the global property market
The results for all member nations of the European Union, OECD and G20 countries are listed below. As a general rule of thumb, property in countries with lower salaries tends to be much more affordable for locals than property in nations with higher wages.
This indicates that while property values have risen dramatically over the past few decades in the most developed countries, wages have not been able to keep up, leading to a crisis of affordability for many young people and first-time buyers. On the other hand, those who do own property in those countries have experienced a huge boost to their personal finances that they would have missed out on in many other parts of the world.
Where does the UK fit in?
The UK has the tenth least affordable housing market for first-time buyers. While rises in property values have outstripped salary increases in recent years, low interest rates have also made it more difficult to save. This has made the country's property market much more difficult to access for prospective homeowners in the UK than in many other nations.
Fortunately, there are several schemes and incentives available to help people build up capital for a deposit, including Lifetime and Investment ISAs, low deposit mortgages, and other financial products.
Additionally, with the workplace becoming ever more digitally focused, remote working has seen a rise in popularity among professionals from a wide variety of sectors. The low prices in some foreign property markets present an opportunity for those who are struggling to buy in the UK and are willing and able to take remote working to the extreme.

Methodology
We wanted to find out which countries have the most affordable property markets for first-time buyers. To find this out, we used data from Numbeo to look at multiple factors which can make the prospect of homeownership more or less affordable.
The countries that we looked at are comprised of member states of three major groups of countries (the European Union, OECD, and G20), which include nations from all over the world and represent the majority of more-developed economies and property markets. These lists of countries were taken from countryeconomy.com.
To determine the affordability of housing in each country, we looked at the average salary, average cost of a flat per square metre, house price as a % of salary, and the cost of a 495 square foot apartment (which is reportedly the average size of an apartment in the UK according to the BBC). We also looked at factors that make owning your own home such as the cost of utilities and internet.
All of these factors were then combined into an equally weighted score which allowed us to rank the countries from 1 to 50, revealing the most and least affordable countries to get on the property ladder.
See which share tip is making the headlines

Have you considered transferring your pension?

Find the best trading platforms
*Capital at risk