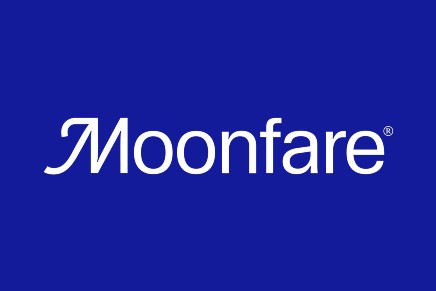 Moonfare has become one of the leading companies in private equity investment. It aims to offer a unique opportunity that enables individuals to access expert knowledge and private equity platforms with venture capital.
I was curious to see whether its investment options truly mean that investing in private companies has become accessible to all individual and retail investors. So here is my Moonfare review, detailing everything you need to know about the investment platform.
We can't take you to this site at the moment.
Have you tried eToro?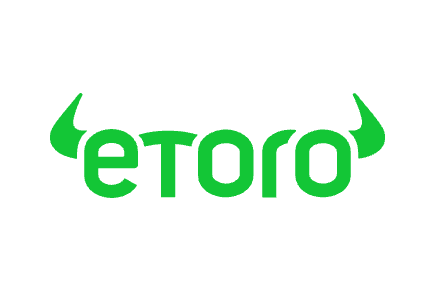 76% of retail investor accounts lose money when trading CFDs with this provider. You should consider whether you can afford to take the high risk of losing your money. Your capital is at risk. Other fees apply. For more information, visit etoro.com/trading/fees
What is Moonfare?
Moonfare is a digital private equity platform whose aim is to give individual investors access to top tier funds, unlocking their potential to achieve higher returns. They operate on a system that pools investor funds. It's important to highlight that this is not a broker as I discuss in many of my other reviews, but a platform for people to invest in private equity.
Deposit and Withdrawal:
80%
Markets and Products:
80%
Pros
Cooling off period
Good customer service
User-friendly interface
Cons
High investment capital
Delay in investment approval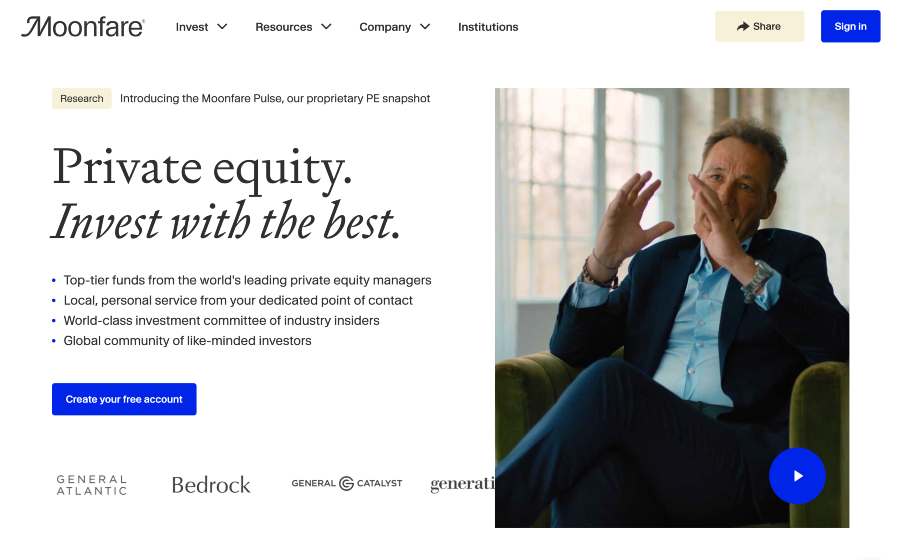 Who owns Moonfare?
Moonfare was established by high net-worth individuals such as Alexander Argyros, Heinrich von Liechtenstein, and Steffen Pauls, who partnered with several wealth managers of public companies. Recently, the Moonfare team raised a $125 million round of funding led by Insight Partners.
Who is Moonfare suitable for?
Moonfare appeals to a broad target audience of "individual investors" on its website, although in reality, I feel the minimum investment amount is too high for anyone new to the investment scene.
I would therefore only recommend Moonfare to experienced investors with significant capital and with an eye for the private equity asset class.
Moonfare pools funds from private investors into feeder funds which are then used to invest directy into underlying PE funds. This is how they have made investing in private equity accessible with only 25% due upfront and the rest spread out over the funds lifecycle. Moonfare conduct due diligence on each fund manager they appoint.
It's important to note that there are no tax wrappers available at Moonfare such as an ISA.
#1. Direct private equity fund investment
Private equity fund investments were out of reach for people except for family offices, institutional investors, and the ultra-wealthy. But Moonfare opened the niche up by giving access to private investors. Direct funds allow investors to pick and choose the funds that meet their objectives.
These funds have historically generated returns that average IRR of 19% since 1999, which outperforms the S&P 500 by 13 percent. The typical investment period for one of these funds is 7 to 10 years with your commitment spread out over the lifecycle of the fund.
#2. Portfolio funds
This product cuts across regions, wealth managers and investment strategies. These invest in a collection of funds which provides instant diversification. Portfolio styles available on Moonfare are:
The perfect entry point for private equity investing is Moonfare's buyout portfolio. It allows individuals to select top-tier buyout funds for one low-minimum investment.
Retail investors and individuals with good net worth are looking for alternative investments to benefit from high returns. And there is a high return on the venture capital.
This invests in companies that can demonstrate proven business models with plans to use the additional capital to scale up into new markets, launch new products, or enhance existing business models to increase profitability.
#3. Secondary market
The secondary market at Moonfare is held semi-annually by digital auction. This enables investors to sell their existing Moonfare allocations to other members, or Moonfares institutional parnet, Lexington Capital.
The fees charged at Moonfare are in line with what you would expect from this kind of service, baring in mind that the platform is for experienced investors with significant capital.
Capital: Investing capital with Moonfare requires low minimums. Usually, 25 per cent of the full commitment is put up front with the remainder spread out via capital calls over the fund's lifecycle.
Minimum investment: The minimum investment for Moonfare join starts at €50,000 to €100,000, depending on where investors are located.
Fees: Up-front fee of 1% of committed capital
Management fee of 0.65% – 0.90% p.a. For the portfolios, or 0.45% – 0.65% for the direct funds.
Admin fee: 0.35% – 0.50% p.a. (Feeder from Luxembourg)
Underlying fund fees: Typically 2% mgmt fee and 20% carry
Moonfare do not have a mobile app, however their web based technology platform can be accessed from a mobile browser in order to manage investments on the move.
Moonfare have designed a clean and easy to use interface that should be a breeze for anyone to navigate. Members can browse current and upcoming funds in a fully secure, digital environment.
Services and tools
Some of the services and tools available on the platform include:
Fund selection and investment: On the app, you can browse and select private equity funds across different investment strategies, industries, and geographies.
Portfolio management: Moonfare provides tools and features for investors to manage their investments and track performance.
Dedicated support: There is access to a team of private equity experts for guidance and advice.
How to open an account with Moonfare
Want to know how to sign up? Here is everything you need to do before investing Moonfare.
Click 'Create Account'
Fill in some basic information such as your name, country, and phone number
Verify your email
Set a password
State how you heard about Moonfare (feel free to put Investing Reviews in this section)
Tick the box stating that you are a cerfitifed high net worth investor or a self-certified sophisticated investor
State whether you are an accredited investor (details of this are outlined)
Fill out the investor questionnaire
Wait for the cooling off period which is 24 hours
Complete your profile and verify you identity
Deposit and withdrawal process
Capital calls are taken directly from your bank account when you buy into any funds via Moonfare.
Moonfare is a little different from other investment platforms in this respect. Rather than providing customers with a variety of deposit methods, your bank account details are collected, and capital calls are taken directly when due.
Fast and friendly support service.
When I called in, I found the Moonfare customer care representative who answered the phone to be quite professional and seemed knowledgeable. They answered the questions I asked without much issue.
Equally, they were fast to reply via live chat and answered all the questions I had on several occasions.
Address: 
20 North Audley Street, London,
W1K 6LX, United Kingdom
Email: [email protected]
Tel: +44 20 393 689 28
Research
The company has whitepapers like the "Moonfare Investor Survey 2022" to help you keep up with the latest thinking about private markets. For those that have the time to read, there are several white papers available which can be downloaded from the main website. I note that this is not a traditional broker, so research tools for trading are unavailable.
Moonfare safeguards clients' accounts and personal information using industry-standard 'at-rest' and 'in-transit' encryption. In addition there are a number of measures in place to ensure web application security including industry-leading firewalls and a team of security monitors seeking out potential breaches.
A Private Equity Masterclass is available in Moonfare's educational library for individual investors. There are also blogs to explore the latest insights and trends in private markets, in addition to webinars, videos, a newsletter, and live discussions hosted by Founder and CEO Dr. Steffen Pauls exploring insights and anecdotes from leading global private equity dealmakers.
Useful information
Moonfare's regulation
Moonfare UK Ltd. (FRN: 947638) is an appointed representative of Khepri Advisers Limited (FRN: 692447) which is authorised and regulated by the Financial Conduct Authority.
Past Performance
Whilst details of past performance of the funds on offer at Moonfare can be found on their webpages, it is important to remember that this is not an indication of future returns and the value of your investments can go down as well as up.
Moonfare FAQs
How does Moonfare make money?
Moonfare make their money by charging a fee when you invest via Moonfare. This varies depending on the type of investment you enter into but will always start with a 1% upfront fee of the intended capital.
What is the minimum investment in Moonfare?
The minimum investment for Moonfare Funds is €50,000 for portfolio funds and €100,000 for feeder funds.
Moonfare Customer reviews
Most recent reviews:
Serious issues with internal services, reporting delayed and even cases of serious data breaches. As I client since 2019 I will not commit money to additional feeder funds and phase out my investments with Moonfare.
Likes
Fees
Account opening
Deposit and withdrawal
See which share tip is making the headlines

Have you considered transferring your pension?

Find the best trading platforms
*Capital at risk