HyperJar is an innovative new way to manage your finances and shop smarter. With features such as budgeting, spending tracking, and rewards, it's no wonder there are so many positive HyperJar reviews.
The app is designed to offer a better way to save and spend by allowing users to organise their money in multiple "jars" for different purposes, with a range of tools to help people take control of their finances. To learn more about the app, here is my HyperJar review.
Who is HyperJar?
HyperJar is a UK-based company which has gained over 200,000 users since 2020.
While the app is free, HyperJar makes money through partnerships with merchants and by taking a percentage of customers' purchases.
To expand its operations, HyperJar added a kids account feature in 2021 — allowing parents to open accounts, allocate pocket money, and track their children's spending.
HyperJar is regulated by the Financial Conduct Authority (FCA) but not the Financial Services Compensation Scheme (FSCS) since it's not a bank; rather, it is authorised as an Electronic Money Institution.
Deposit and Withdrawal:
90%
Markets and Products: N/A
1%
Pros
An innovative platform that combines a budgeting and spending account
No fees for using the platform, including account opening, deposits, withdrawals, and transactions
An easy-to-use interface that allows users to set savings goals and track progress
Cons
HyperJar cards cannot be used to withdraw money at ATMs
Limited range of merchants partner with HyperJar
Not a savings account but rather a budgeting and spending app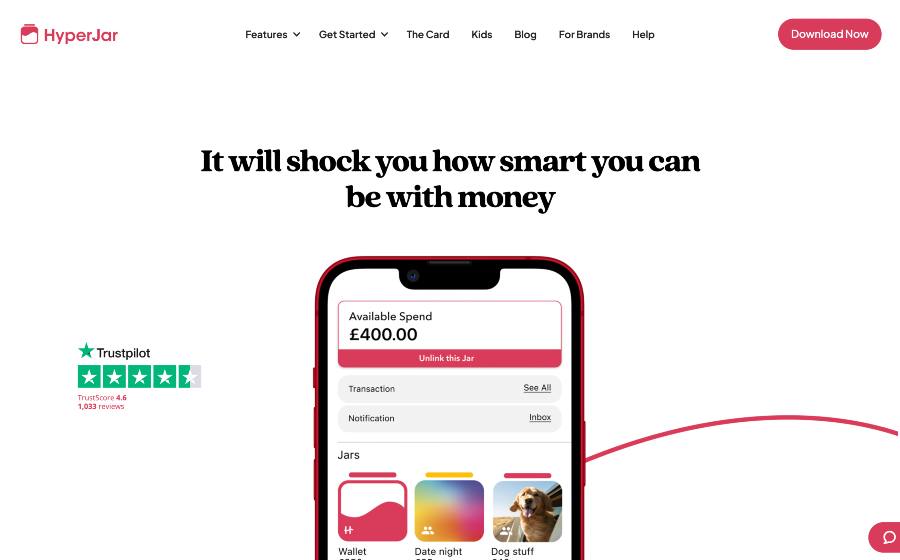 Who owns the HyperJar money management app?
The founders of HyperJar are Mat Megens and Paul Rolles, who have a passion for making financial management easier and more accessible.
In January 2023, Rob Rooney was also appointed as a CEO of HyperJar, after he left his role at Morgan Stanley International.
Who is HyperJar suitable for
As a save-now-buy-later app, HyperJar is useful for budget-savvy shoppers looking for a new way to manage their money.
The app is ideal for those who want to budget, allocate money for special purchases, and track their spending in real-time.
With its 4.8 Annual Growth Rate (AGR) reward system, the HyperJar app can also be a great tool for those who want to lock in savings and rewards by shopping at the right merchants.
There is also a kids account which can benefit both parents and children. Parents can easily open accounts, allocate funds to their children, and track their spending, while children can learn great money habits with this budgeting app.
HyperJar's jar system allows users to separate their money into different categories, which can be a helpful tool for people who need to allocate funds for specific purposes.
Accounts and products available
HyperJar offers one account type. The HyperJar account which can be used as a standalone adult account or be paired with a kids account where parents can allocate and regulate their kids' pocket money.
This account allows customers to organise their funds into different "jars" and track spending in real time on their own phone.
HyperJar is just like a digital version of traditional envelope or jam jar budgeting. With this budgeting app, customers can create multiple jars or mini accounts within their account and label each jar with a name and amount.
This allows users to set goals and track their progress toward each goal as they spend money according to those goals.
Using the HyperJar card, customers can pay to spend directly by purchasing items at any merchant that accepts Visa or Mastercard, as well as make payments to other HyperJar users.
HyperJar is free to use. They do not charge any sign-up or monthly fee, but the company does charge £5 to replace lost cards and £25 to recall a bank transfer.
The company takes a percentage from customers' purchases and from merchants who partner with HyperJar, which explains how they do not charge customers any additional fees.
HyperJar is available as a mobile app on both iOS and Android devices. It does not yet offer a web-based platform.
Services and tools
HyperJar offers several features and tools to help customers budget, save money, and track their spending. These include:
Jars — The app allows customers to create multiple jars within an account and label each jar with a name and amount.
Dynamic authorisation — This technology enables users to link a card to any Jar as the funding source, allowing them to set spending limits and manage their funds more efficiently.
Rewards — HyperJar has a 4.8 Annual Growth Rate (AGR) rewards system, which allows customers to lock in savings and rewards by shopping at the right merchants.
Kids Account — HyperJar allows parents to open accounts for their kids, allocate funds to the account, and track their spending while also teaching children how to manage money responsibly. They do this by pairing their children's accounts with theirs.
Shared spending — With the Shared Spending feature, customers can easily share jars and split transactions with friends and family, making it easier to share costs.
How to open an account on HyperJar
I found the process of opening an account with HyperJar remarkably straightforward. The sign-up process only took me a few minutes to complete, though it took about 72 hours to get fully verified.
Here are the 6 steps to open an account:
Go to the HyperJar website or download the app from the App Store or Google Play Store.
Enter your personal information, including your full name, email address, and mobile number.
Create a secure password.
Enter your address and verify your identity using an ID document.
Link a payment card that will allow deposits to the account.
Once all the registration steps have been completed, customers can start setting up their jars and managing their finances.
Deposit and withdrawal process
Deposits
Customers can deposit money into their HyperJar account by linking a bank account or debit/credit card.
Once these are linked, customers can fund their accounts with any supported payment card, and the funds will be available within minutes.
I found linking my bank account to be a quick and painless process that was completely within seconds.
Withdrawals
Users cannot withdraw cash from their HyperJar account but can transfer money to another HyperJar account and make purchases with their HyperJar card.
While the minimum top-up is £10, users can add up to £5,000 to their accounts. Furthermore, the Maximum Account Balance stands at a generous £10,000!
HyperJar has great customer service which is available via email and in-app chat. I found the support team to be responsive and helpful; users can expect prompt responses to their queries.
The Live Chat times are between 9am and 9pm on Monday to Friday and 10am-6pm on weekends or public holidays. They also accept messages on WhatsApp, at +44 7869 332 624, to which they promise to respond within a day.
Their contact details are as follows.
71-75 Shelton Street
Covent Garden
London
United Kingdom
WC2H 9JQ
Research
Hyper does not currently offer any research tools or market analysis as they are not a trading platform.
Education
Hyper offers a range of educational materials, such as videos and blog posts, to help users improve their financial literacy. Given the simplicity of the app, I found this to be quite sufficient.
Safety
HyperJar is regulated by the FCA and is authorised as an Electronic Money Institution. This means that all customer funds are held in trusted and secure segregated bank accounts.
They also employ the 256-bits encryption technique and biometric identification to ensure the safety of user data.
Useful Information
HyperJar makes money through the merchants they partner with. Currently, over 30 partners subscribe to their program.
Although HyperJar is not a bank, it is worth noting that they issue account numbers, sort codes and cards which can become your primary card for making purchases.
The free app allows users to get their own jars, and get instant notifications on all their spending. A standout feature is how it can be used to help kids manage and be in full control of their pocket money through the HyperJar kids card.
HyperJar FAQs
Does HyperJar have a monthly fee?
No, HyperJar does not charge a monthly free. The service is completely free to use including card transactions and transfers.
Can users link their HyperJar cards to Google Pay and Apple Pay?
Yes, users can link their HyperJar cards to Google Pay and Apple Pay and with this, they can make contactless payments.
HyperJar Customer reviews
Most recent reviews:
There are no reviews yet. Be the first one to write one.
See which share tip is making the headlines

Have you considered transferring your pension?

Find the best trading platforms
*Capital at risk