Forex.com is a CFD and forex broker with a large number of currency pairs, great research material, and low forex fees. This is all available both on Forex.com's own proprietary platform, as well as the popular MetaTrader 4.
Forex.com has the infrastructure to support all levels of traders however, whilst they are reasonably priced, they are not the cheapest option available.
CFDs are complex instruments and come with a high risk of losing money rapidly due to leverage. 68% of retail investor accounts lose money when trading CFDs with this provider. You should consider whether you understand how CFDs work, and whether you can afford to take the high risk of losing your money.
Forex.com is a highly regarded broker within the industry and boasts one of the most significant numbers of MetaTrader users across the globe. As well as forex trading, there is access to stocks, futures, commodities, and options on desktop, web, and app.
This is an easy-to-use, advanced trading platform, with tight regulation and access to a large number of markets including cryptocurrency trading. There are some enticing incentives for high-volume forex traders, however, with an inactivity fee that doesn't kick in until a year of no trades being placed, this is definitely worthy of consideration for traders of all volumes.
Forex.com support client trading activity with 24 customer support and some high-end research tools and market analysis to aid with trading strategies. This is part of what makes them an excellent choice for beginners as well as more experienced traders. It has a long-standing reputation for delivering excellent service and its parent company is listed on the NASDAQ stock exchange.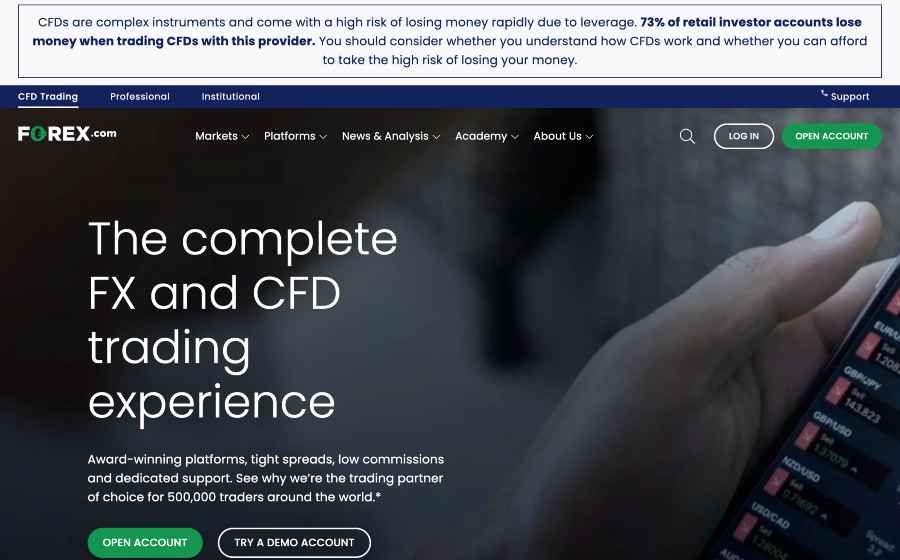 Who are Forex.com?
Forex.com are a global CFD and forex broker with over 200,000 customers worldwide trading on over 1000 markets. Over the years they have won a number of industry awards including the 2020 Best CFD FX Provider and Best Trading Analysis Provider at the Online Personal Wealth Awards.
Who owns Forex.com?
Forex.com are part of the StoneX Group, a publicly traded company, listed on the NASDAQ stock exchange with a total of $10.9 billion in assets under management as of August 2021. They have high liquidity, which makes them a trustworthy platform with solid foundations. StoneX Group also owns City Index and you can read my review of City Index here. StoneX Group acquired Forex.com from GAIN Capital Holdings in 2020.
Forex.com product range overview
Forex.com is a CFD, forex and crypto broker with a large number of currency pairs to choose from.
Forex
Forex.com are sought after for its robust offering of currency pairs when trading forex. There are 80 pairs to choose from, available 24 hours a day, five days a week with spreads as low as 0.8 pips and zero commissions.
Indices
Indices provide scope for exposure to the market without the risk of a single company affecting your outcomes. At Forex.com, you can trade the FTSE 100 from 1 pt, the S&P500 from 0.4 pts and DAX from 1.2 pts. There is the option to go long or short with leverage.
Shares
Whilst you can't buy actual shares at Forex.com, there is the opportunity to trade UK shares CFDs for as little as 8 basis points and US stocks from as little as 1.8 cents per share. There are a total of 4,500 share CFDs in total which is a vast number.
Commodities
At Forex.com you can trade both long and short with zero commissions and leverage.
Also consider: How to invest in commodities UK
Gold and Silver
Gold and silver are often considered a safer alternative during periods of market volatility. At Forex.com you can benefit from deep liquidity and tight pricing with access to multiple precious metals in order to diversify your portfolio and hedge against inflation. Traders can go long or short and utilise leverage in order to increase exposure.
There are four live account types on offer at Forex.com including a dedicated account for experienced traders. There is also a demo account for practising your trades.
DMA account
This account is dedicated to experienced traders. There is a tiered commission structure and deep liquidity which can typically only be accessed by institutional traders.
There is no spread with this account and high trading volumes will result in discounted commissions. There is also one-to-one support from a Market Strategist which you don't often see. As far as I could tell, there were no restrictions on who can open this account, however, you would only benefit from the reduced commissions if you trade over $350 million in month 1.
Standard account
This is ideally placed for beginners and those wishing to dip their toes into the market or test out the platform. You will still get competitive spreads and access to over 1000 markets. This is available on the proprietary platform which I have gone into in more detail below.
MT4 account
Forex.com have the highest number of MT4 users which is still the world's most popular trading platform. However, when trading on MT4 with Forex.com, you have access to some tools that are only available at Forex.com such as fully integrated news and fundamental and technical analysis. I have gone into this in more detail below.
Corporate account
As you would expect, this account has been designed specifically for institutional and retail business trading. It allows multiple users access to the account, in addition to corporate cash deposits.
Demo account
You can open a demo account at Forex.com but it will only be available for 30 days from the day of opening. This is a really short time, considering many other brokers allow traders to keep their demo accounts indefinitely.
You will get £10,000 to start virtual trading with, which is a great way to gain global markets experience, especially when starting out trading CFDs. Of course, when demo accounts lose money, this represents no risk to your actual funds.
The demo account is available on both the proprietary trading platforms and on MT4.
Forex.com account opening
Opening an account is a fully digital experience that can be completed in minutes. Sadly you will have to wait up to 2 working days for verification to be completed.
Forex.com has a quick and easy account opening process that can be completed by following these steps:
Click 'Open Account' on the Forex.com website
Select between Forex.com Standard Account, MetaTrader 4 or the DMA Account
Complete the form with your personal details
Answer a simple questionnaire with regard to your financial knowledge
Upload a copy of your ID (passport or driving licence) and utility bills or bank statement for verification and proof of residency
Forex.com deposits and withdrawals
Deposits and withdrawals are free of charge with a good number of options and a low minimum deposit of £100.
Forex.com has several base currencies to choose from, which means you can choose to fund your account in the same currency as your bank account, reducing your exposure to conversion fees. Deposits can be made in the following way:
Bank transfer
Credit/debit card
Electronic wallets
For instant deposits, use a credit or debit card. Bank transfers will take a few business days to complete.
There is no minimum account balance at Forex.com however, the minimum deposit is £100 which is low when compared to other brokers.
Withdrawals are also free of charge and can be done using the same methods as for deposits with the following timescales:
Bank transfers: 2-3 business days
Credit/debit card withdrawal: 5 business days
Forex.com web trading platform
For those that prefer to trade via web trading platforms, there are two options at Forex.com, the proprietary platform, and MetaTrader 4.
Whilst MetaTrader 4 is a popular platform among traders the world over, it can feel a little outdated. That being said, all the features we've come to expect are there and the interface is highly customisable with advanced charting and indicators.
However, in this instance, I would recommend that you consider using Forex.com's own web trader platform as it is also highly customisable, with the ability to add or remove tabs and change their size and position within the interface. You can also change the appearance of the interface and it comes with integrated Reuters news and expert advisors which are lacking on the MetaTrader 4 platform.
Traders can also enjoy excellent search functionality as well as order types that include market, limit, stop, trailing stop, and one-cancels-the-other. Order terms include Good 'til cancelled, good 'til end of the day and good 'til time.
If you want to know when a particular asset reaches a price target, you have the option to set an alert and you can choose to be notified when your orders are fulfilled.
This is a pretty comprehensive offering and I couldn't find much missing.
Forex.com mobile trading platform
Again, mobile trading on Forex.com can be done using MetaTrader 4 or the Forex.com proprietary platform. The app has scored 3.6 on the app store however, I found it to be user-friendly with some great functionality.
For the purposes of this review, I have given consideration to the proprietary app at Forex.com. There's a lot to like, including a well-laid-out interface that provides access to TradingView charts and news and analysis. There are some good search functions to make finding an asset easy and from within the app, you can place market orders, limit orders, stop orders, trailing stop orders, and OCO.
The app also has some functionality in terms of alerts and notifications so you don't miss a trade and supports biometric ID for ease of opening.
Here's what some real customers had to say:
Love the Forex App
"It is the first forex app that I have used with built in pip and margin requirements calculator when placing trade, and funds available within seconds for trading. Backed by the trust of Gain Capital UK Ltd and US Commodities CFTC regulation. I usually trade $200 every week or so. Money I can loose without loosing sleep. This is a perfect avenue for me. Would like to see DXY add in the future iteration!"
7/10
"I really like the layout and organization of the app. It's pretty easy to navigate around and easy to place trades and manage risks. However, it seems like the app was updated and it has delays. Sometimes it freezes and doesn't let you exit a trade which can be really frustrating. Overall a pretty good broker, app needs a few updates tho"
Forex.com desktop trading platform
There are two desktop versions to choose from, the Advanced Trading Platform, and MetaTrader 4 both with much of the same functionality as the web trading platform.
If you are already familiar with the web trading platform, then there won't be much here that will come as a surprise. All the same trading instruments including price alerts and order types are present, however, the desktop platform is probably a little more suited to experienced traders who can navigate the functionality and advanced charting package with over 200 technical indicators, drawing tools, and predefined automated strategies.
That being said, there is little to recommend the desktop over the other trading platforms in terms of usability and interface. It can seem a little over-complicated and dated.
Forex.com has excellent research including charting, trading tips, technical analysis, and reports all within the Advanced Trading platform. There is however a lack of video content.
Head to the Forex.com website and take a peek under 'News and Analysis' for a complete picture of the comprehensive research offering.
Within the platform, research is well organised and accessible with several news channels, blogs, an economic calendar, and automated pattern recognition modules.
Trading ideas based on fundamental analysis are located under 'Trading Central' and charting tools can be easily customised to suit your requirements. There are a number of useful risk management tools and Forex.com have a highly skilled in-house global research team who help to identify the information that influences the markets in order to produce regular research reports.
Forex.com customer service review
Customer service is highly responsive and available 24 hours a day from Sunday to Friday via email, live chat and phone.
I found the customer service to be excellent at Forex.com, with my phone call being answered immediately by a helpful member of staff. Live chat was slightly tricky to locate, and you need to get past the chatbot before you can talk to an actual human, but once you are there you are connected immediately.
Email was a little slower in terms of response times, but this is to be expected for most platforms and with two other channels producing immediate responses, I didn't see this as an issue. All in all, a great offering.
The comprehensive educational content at Forex.com is organised into experience levels for beginners, intermediate, and advanced users. This is an excellent offering across several channels.
Regardless of your trading experience, there is something for everyone in the Forex.com academy including a quiz to identify which level of trader you would fall under.
Education is interactive, with courses for different topics and lessons to help develop your trading skills and strategies. There are also a good number of platform tutorials to take you through how to utilise the tools on offer at Forex.com. Education includes:
Trading glossary
Platform tutorials
Demo account
Webinars
Educational articles
Quiz
Performance analytics tool
Forex.com is considered one of the safest trading platforms with regulation in several locations and a parent company that is listed on the NASDAQ.
In terms of safety it doesn't get much better with regulation from the following top-tier financial authorities:
For UK residents, there is additional investor account protection from the Financial Services Compensation Scheme (FSCS) to the value of £85,000. There is also protection in other countries including the Canadian Investor Protection Fund and the Cyprus Securities and Exchange Commission.
UK traders can also take advantage of the negative balance protection for forex sport and CFD trading. In addition, all client funds are held in segregated accounts in order to safeguard client money.
Data is protected at all times and two-factor authentication in addition to biometric ID on the mobile app ensures your account cannot be accessed by a third party.
Forex.com is a low-cost broker especially when it comes to trading forex. In terms of non-trading fees, there is an inactivity fee to be aware of.
Forex.com are often sought out for their low trading fees although this would actually depend on the account you are trading from. The standard account is the only account available to MT4 traders and here the average spreads are a little on the high side at 1.1 pips on the EUR/USD.
However, those on the DMA account can access the Advanced Trading Platform which is Forex.com's proprietary platform offering the best rates with typical spreads at 0.03 pips for EUR/USD. Of course, there is a commission to pay, which would significantly add to the cost; however, this can be reduced with high trading volumes.
The only other cost to be aware of is the inactivity fee of $15 per month for an account with no trading activity for more than 12 months.
Who is Forex.com suitable for?
With its various trading account options and excellent environment from which to trade forex, Forex.com are a well-rounded option that competes well with other online brokers. Their robust educational resources and tiered fee structure for active traders place them in a good position for all levels of experience.
Useful Information
This section contains useful information to make your experience at Forex.com as seamless as possible.
How do I contact Forex.com?
Forex.com can be contacted using the live chat function or by submitting a form on their website. Alternatively, you can call them on 0800 032 1948 or email [email protected].
How do I withdraw funds from my Forex.com?
Withdrawals can be done by following these simple steps:
Login to your Forex.com account
Select 'Funding' followed by 'Withdrawal'
Enter the amount you wish to withdraw
Confirm
Can Forex.com be trusted?
Yes, Forex.com are considered very safe and trustworthy with all the appropriate safety measures in place as well as tight regulation.
Is Forex trading allowed in the UK?
Yes, residents of the UK are permitted to trade forex using any of the forex brokers available. Please ensure the broker is regulated by the Financial Conduct Authority before depositing funds.
Forex.com FAQs
Is Forex.com a good broker for beginners?
I would definitely recommend this broker for anyone looking to enter the forex market as they have one of the better education sections that I have come across to date.
Which is the best forex trading platform in the UK?
For a complete guide to my pick of the best forex brokers in the UK, please click 
here
.
Forex.com Customer reviews
Most recent reviews:
There are no reviews yet. Be the first one to write one.
See which share tip is making the headlines

Have you considered transferring your pension?

Find the best trading platforms
*Capital at risk