AvaTrade is a global, award-winning, CFD, crypto and forex broker which also offers spread betting to residents of the UK.
Read my full and unbiased AvaTrade review to discover why AvaTrade is an excellent option for traders looking for competitive trading commissions and fees on an extensive selection of trading platforms but not for traders who like to dip in and out of the market.
Founded in 2006, AvaTrade is tightly regulated by several bodies across the globe, providing a reliable and safe trading platform to its 200,000 customers worldwide. Today, AvaTrade facilitates over 2 million trades each month and has handled more than $1.47 trillion in traded value since its launch.
There is little doubt that the offering of customisable trading platforms on AvaTrade is impressive. With five different options to choose from, there is literally something for everyone from beginners to advanced traders.
In my AvaTrade review, I have compared AvaTrade to similar brokers in order to establish their position in the market in terms of assets offered, fees charged, customer service, and safety amongst other factors so you can make an informed decision as to whether this is a good platform for you.
Deposit and Withdrawal:
80%
Markets and Products:
80%
Pros
Good educational content
Excellent selection of trading platforms
Quick and easy to open an account
Cons
Average forex fees
Limited range of tradable assets
High inactivity fees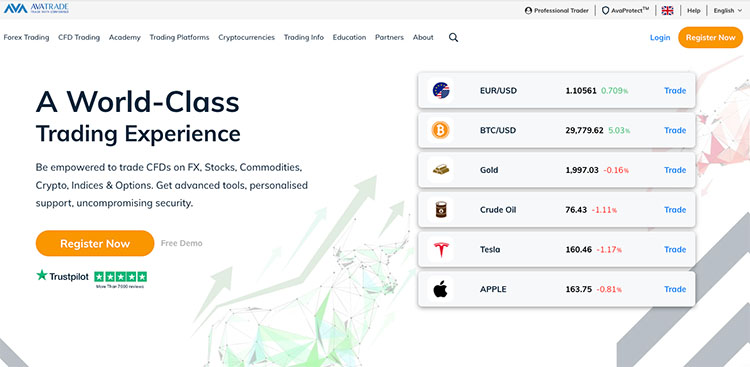 Who are AvaTrade?
AvaTrade was initially founded as AvaFX and has headquarters in Dublin, Ireland as well as regional offices from around the world. AvaTrade claim that they are "committed to empowering people to invest and trade, with confidence, in an innovative and reliable environment; supported by best-in-class personal service and uncompromising integrity".
To this end, AvaTrade have provided traders with Trading Central where a suite of tools provides trading strategies based on technical analysis. Today AvaTrade is considered one of the top forex brokers in the world.
Who owns AvaTrade?
AvaTrade was co-founded in 2006 by Emanuel Kronitz and Negev Nosatzki but the trading platform was acquired for $105 million in 2015 by Playtech.
AvaTrade product range overview
The AvaTrade trading account provides access to over 250 financial instruments including forex trading, CFDs, commodities, cryptocurrency indices, stocks, bonds, vanilla options ETFs, spread betting, and copy trading.
AvaTrade does not offer asset classes such as real stocks, bonds, or mutual funds.
AvaTrade is primarily a forex broker offering 55 major currency pairs with which to perform forex trading which is fairly on par with some of their main competitors. They also offer:
625 stock CFDs
32 stock index CFDs
59 ETF CFDs
27 commodity CFDs
2 bond CFDs
This is a fairly average offering in this space. Traders should be aware that not all trading instruments are available on all platforms. Most of the stocks can be traded on the MT5 platform only.
Crypto CFDs are not available to retail traders who are UK residents and are completely unavailable through trading the underlying asset.
It is important to familiarise yourself with the risks of trading any financial instrument. Currency trading on margin is considered high risk and would not be suitable for inexperienced investors.
With two proprietary AvaTrade platforms, a full MetaTrader suite, Zulu Trade, and DupliTrade, AvaTrade have provided a trading platform to suit all styles and levels of experience.
There is little doubt that the platform at AvaTrade is where their offering really stands out from the crowd. In addition to this, the trading platform offers an intuitive design that is easy to use and provides unique order types to minimise any losses.
Webtrader
Whilst it may not have the customisation options of some other platforms available, AvaTrades own web platform, Webtrader, is very well laid out and easy to navigate even for novice traders.
The search functions allow traders to search by asset name or category and all the basic order types are available including Market, Limit and Stop.
Nervous about sustaining losses? AvaTrade provide a type of insurance against losses in the form of AvaProtect. You will be charged a fee for this service, however, for the period of the cover, any losses sustained on that trade will be reimbursed. This is available on market orders.
Charting is available with 90 indicators and the suite of tools from Trading Central is neatly integrated into the trading platform.
Where Webtrader does fall short is that there is no option for setting price alerts or receiving notifications. Also, Webtrader only provides access to around 200 tradable symbols, compared to the 800 offered on MetaTrader 4.
MetaTrader 4
The lack of customisation available on Webtrader is more than made up for with MetaTrader 4. MetaTrader 4 is a third-party trading platform and the leading trading platform in the world. It is fully customisable with a plethora of features designed to enhance your trading performance. Monitoring positions is a breeze with the advanced charting functionality and order management tools. Within the search functions, assets are grouped into categories although you will find that you are unable to search by an asset's name.
This trading platform was designed primarily to trade Forex, although it is possible to trade other financial instruments. Whilst you are unable to set alerts and notifications on the web version of this trading platform, this is a feature that is available on the mobile app and desktop trading platform.
AvaSocial
AvaSocial is one of the more recent launches at AvaTrade, a mobile app allowing traders to follow and chat with other traders and copy their trades. This is provided by a third party called Pelican Trading who are FCA regulated.
Within AvaSocial you can find successful traders to copy, examine their trading history, set budgets and limits, and access automated trading. This is an excellent platform for new traders to develop their skills and knowledge.
In addition to this, AvaTrade offers social trading through a further two third parties, DupliTrade and ZuluTrade. The minimum deposit for ZuluTrade is $500, however, in order to start social trading with DupliTrade, you would need a $2,000 minimum deposit.
AvaOptions
AvaOptions is an excellent hedging tool for forex traders. It can be a little complex and is possibly geared more towards experienced traders, but there is quite a bit of functionality that allows you to buy and sell an asset at an agreed price, on a specific date in the future.
This is an intutiative platform which utilises past outcomes on Gold, Silver, and FX Options to give you the risk and profit potential of any trade. This information can be used to set an underlying strategy and manage your exposure to risk when going long or short.
AvaOptions can be accessed on both mobile and web platforms and can be used with social trading in order to share your trades with others. This is a feature worth considering as vanilla options are rarely offered at other brokers.
There is a lack of customisation or alerts available, but search functionality is good and placing orders is straightforward.
AvaTrade Mobile Trading Platform
The mobile experience at AvaTrade is modern and slick with plenty of excellent functionality. There are three choices of mobile trading apps, including the full MetaTrader suite, AvaOptions, and AvaTrades own mobile trading platform, AvaTradeGO.
AvaTradeGo is an intuitive app with plenty of tools, however, it does lack two-step log-in and doesn't support face ID.
AvaTradeGO
AvaTradeGO is AvaTrade's flagship mobile trading platform, providing users with an intuitive, user-friendly mobile trading experience. In terms of features, users will recognise many of the tools available on the web trading platform including some extra social and copy trading features.
Other features include news, charting tools with 93 indicators, watchlists and risk management tools such as stop-loss, limit orders, and AvaProtect which I have gone into in more detail in the Webtrader section of this AvaTrade review.
AvaTrade has a decent range of research tools including access to news and live economic calendars. This is fairly standard among brokers, however, AvaTrade also provide access to trading educational resources on Sharptrader.com.
Trading Central is a third-party research provider, delivering trading ideas based on technical analysis and covering certain commodities, stock indices and FX pairs.
The economic calendar provides access to fundamental data, allowing traders to get an insight into historical volatility and trends. There are also comprehensive charts which are certainly worthy of mention, and have the capability of providing over 90 technical indicators. The news feed is an excellent way of staying abreast of market indicators and can be filtered by asset whereby you will also access a sentiment score for that asset. The trend analysis tool can give you an indication of whether an asset might fall or might rise based on technical analysis by AI software.
In addition to this, regular blog posts and videos can give you more of an insight into technical analysis.
AvaTrade are one of the leading platforms when it comes to education with an excellent selection of educational materials and a free AvaTrade demo account with which to hone your trading skills.
The range of educational content on the AvaTrade platform is impressive to say the least. There is an excellent assortment of in-house material, as well as content from third-party providers including SharpTrader.
Courses and tutorials can be filtered by difficulty or subject and include nearly 60 articles in the beginner section alone and 29 for more advanced traders. There are also 48 videos in addition to the tutorials and webinars on its YouTube channel, eBooks, and economic indicators.
In addition to this, AvaTrade offers a free demo account where new traders can test-run the platform with all the features and tools, without risking any of their own funds.
AvaTrade customer service review
AvaTrade customer service demonstrates excellent response times with courteous and knowledgeable staff, 24 hours a day, 5 days a week, which is adequate to cover the opening hours of most markets.
AvaTrade customer service can be reached via email, telephone and live chat. I found the live chat function to be highly responsive, with helpful staff answering my questions immediately.
Phone support was slightly slower, although still very competitive. Support is available in a large number of languages.
AvaTrade opening an account
I could find no downside to the account opening process at AvaTrade. An AvaTrade account takes mere moments to open and you can be trading in minutes with a low minimum deposit.
There isn't that much to say about opening an account at AvaTrade, the process is very slick, fully digital, and there is a low minimum deposit of just $100 in order to start trading.
When opening an account you will be required to choose between the following account types:
Retail account
Corporate account
Options account
Spread betting account
Islamic account
Professional account
Demo account
When opening an account you can choose between the following base currencies:
This can help traders avoid a currency conversion fee and by trading in assets in the same currency as your base currency, you can avoid further conversion fees. However, this isn't always possible, in which case I would recommend that you reduce these fees by opening a multi-currency bank account.
To open your account at AvaTrade, simply follow these steps:
Enter your personal details such as name and address
Take a moment to answer a couple of questions regarding your understanding of trading
Upload documentation to verify your identity such as ID car, driver's license or passport as well as a copy of a recent utility bill or bank statement.
In terms of safety, AvaTrade is an established brand that is heavily regulated in a number of countries and offers negative balance protection.
On the flip side of the coin, they are not listed on any exchange and do not release any financial information.
AvaTrade are a heavily regulated broker in several countries including:
the Central Bank of Ireland
the B.V.I Financial Services Commission on the British Virgin Islands
the Australian Securities and Investments Commission (ASIC)
the Financial Sector Conduct Authority (FSCA) in South Africa
the Japanese Financial Services Agency (FSA)
the Financial Futures Association of Japan (FFAJ)
the Abu Dhabi Global Markets Authorities Financial Regulatory Services Authority (ADGM – FSRA)
The Polish Financial Supervision Authority (KNF)
In addition to this level of regulation, all client funds are held in segregated accounts to protect their funds should anything happen financially to the platform. It was my finding that AvaTrade have taken adequate action to provide a safe trading environment to traders worldwide.
The trading costs at AvaTrade are fully transparent. For CFD traders, AvaTrade is a competitive offering, however, forex fees are around the industry average. When it comes to non-trading fees the results are mixed, with free withdrawals, but high inactivity fees.
I liked it that AvaTrade are so transparent with their pricing structure and you can't complain about their low CFD trading fees. However, when it came to trading forex, I found the fees to be around the industry average, which means you will find cheaper alternatives if this is your main priority. There is a handy forex calculator which allows you to see exactly what your forex position will cost. Spreads are just below one pip on the EUR/USD at 0.9 pips, however, professional traders can expect this to drop to around 0.6 pips.
For non-trading fees, there are no account fees, deposit fees or withdrawal fees, but that's where the good news ends. AvaTrade do have a fairly high inactivity fee of $50 per quarter after 3 months of inactivity. If you are likely to dip in and out of trading then this definitely won't be your most economical choice of trading platform. There is also an annual administration fee which is charged after 12 months of inactivity and will set you back $100.
There is also a minimum deposit to consider, which at $100 is around the industry average.
Who is AvaTrade suitable for?
With the extensive suite of trading platforms available on the live trading account, it was my finding that AvaTrade are suitable for all levels of trader. Their comprehensive education offering is highly competitive and would meet the needs of most novice investors, whilst the professional trading platform caters to the other end of the spectrum.
Useful Information
This section contains useful information to make your experience at AvaTrade as seamless as possible.
How do I contact AvaTrade?
The best way to contact AvaTrade is to click the floating bubble that can be found on the AvaTrade web pages. Alternatively, you can call using the following details:
United Kingdom +(44)2033074336
International Phone: +353766705834
How do I withdraw money from my AvaTrade savings account?
To withdraw funds follow these simple steps:
Log into your trading account using your email address and password.
Click 'Withdraw Funds'
Complete the online withdrawal form
Wait 24 hours for your withdrawal to be processed
Remember, there are no AvaTrade withdrawal fees.
How do I close my account at AvaTrade?
To close your account at AvaTrade please complete the following:
Log into your AvaTrade account using your email address and password
Go to 'My Account' and follow the withdrawal procedure
Once you have withdrawn all your funds, email your Account Manager or Customer Services and request your account be closed.
AvaTrade FAQs
Is AvaTrade any good?
There is little doubt that AvaTrade stands out from the competition when it comes to the number of platform options it provides. It is also an excellent choice for copy trading with a good thriving community of traders. AvaTrade also stand out in their offering of educational material and resources.
How long does it take to withdraw money from AvaTrade?
AvaTrade claim that withdrawals take 24 hours to process. However, while conducting my extensive research in order to complete this AvaTrade review, I found withdrawal times to be a little slower, usually taking around 3 days.
AvaTrade Customer reviews
Most recent reviews:
I've been trading with AVAoptions for 2 years already , I am mostly using the webtrader, I really like it along with the app – so intuitive and user friendly, at the same time packed with so much useful stuff.
Likes
Fees
Account opening
Deposit and withdrawal
Customer service
See which share tip is making the headlines

Have you considered transferring your pension?

Find the best trading platforms
*Capital at risk