Starling Kite is a children's banking app that comes with a prepaid debit card and a full suite of parental controls that are managed from the parent's
Starling account.
This is a reasonably priced option for parents looking to give their kids some financial independence whilst retaining an appropriate level of parental control, however, only parents who have a Starling account can open a Starling Kite account for their children.
Financial education for kids can help raise early-career earning prospects by up to 28% and increase employment in adults which is why finding the right account for your kids, with the correct level of education, is vital.
The new wave of kids' bank accounts are affording greater control to parents, however, this does come at a small cost. While traditional banks offer children's bank accounts for free, you won't get alerts each time your child uses their kids card, and they don't come with the same level of education or safety measures to help you protect your children.
There is also the ease of account opening to consider with children's accounts taking moments to open online. In contrast, traditional banks still require you to open a bank account in person at your branch.
However, there are several options available, so I have therefore taken the time to conduct a full Starling Kite review so you can make an informed decision as to whether this is the best option for you.
Deposit and Withdrawal:
90%
Pros
Free transfers in
Excellent parental controls
Ability to set automatic transfers for pocket money
Cons
Parents need a Starling account to open a Kite account for their kids
Limited tools and features when compared to other children's accounts
No compatibility with Apple Pay or Google Pay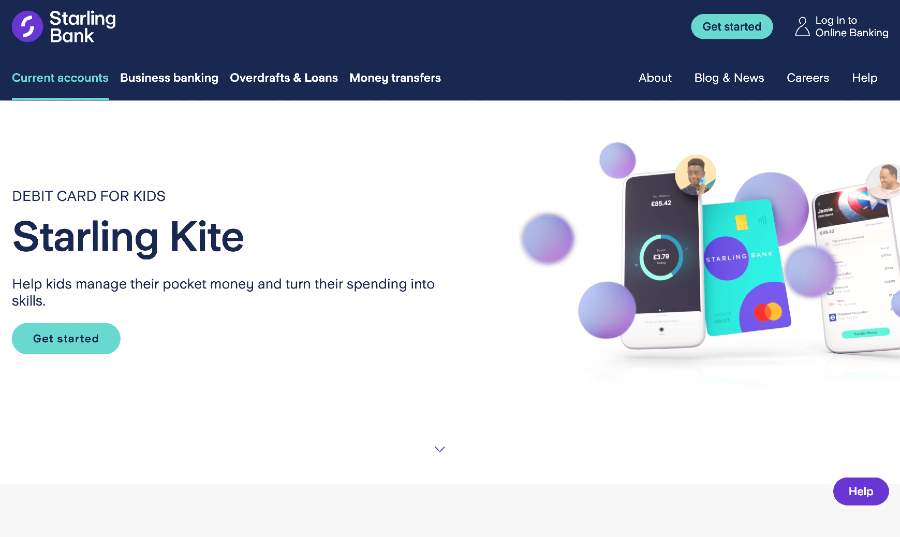 Who are Starling Kite?
Starling Kite is the children's account available to anyone with a Starling Bank account. Starling was launched in 2014 and is a fully licenced and regulated challenger bank providing a mobile-only bank account.
Starling Kite sits within the main parent account, affording them complete control over their children's spending.
Who owns Starling Kite?
Starling was founded by Anne Boden, previously employed by the Bank of Scotland and Allied Irish Bank. Anne Boden has achieved her goal of providing a modern, innovative and easy to manage alternative to traditional banking.
Starling Kite product range overview
Starling Kite provides a parent account from where you can manage your child's account, a child's dedicated app where they can start learning about finance, and a pre-paid Kite debit card for kids that allows contactless payments.
However, there is no opportunity for earning interest, no investment ISA, and no savings pockets.
The Starling kids account is built into the adult account so they can easily transfer money for topping up the child's account and keep a close eye on their child's spending and saving.
The parent app allows for instant spending notifications whenever the child spends money, full access to their spending history, and the ability to set daily, weekly, or monthly spending limits for specific types of transactions.
In addition, parents can lock their child's Kite card instantly from within their own account, allowing for greater levels of security should the prepaid cards be lost or stolen. Another handy security measure is the ability to set where the card can be used, including online transactions in-store, or ATM withdrawals. Parents can stop cash withdrawals or online purchases including the ability to set restrictions on various age-inappropriate merchants. Many merchants are already blocked by Starling and this can be helpful in ensuring a child is not spending money in the wrong places.
Parents can also encourage earning and saving by setting tasks and savings goals and there is no opportunity for children to go overdrawn as they can only access the money parents have put on the card.
There is also a child's app, meaning they will also receive instant payment notifications each time they spend and can keep an eye on their balance. Children will also receive their own pre-paid debit card which allows them to make payments online and in-store, as well as withdraw cash from an ATM.
In addition to all this, the Kite account can be managed by two parents with a joint account at Starling.
Starling Kite customer service review
Starling provide several channels for contacting customer support and have very reasonable wait times.
Whether you prefer live chat, phone, or email, Starling provide support on all these channels. When checking the most recent reviews on Trustpilot, customers of Starling were experiencing excellent levels of customer service and certainly, my own experience would reflect that with waiting times of between 5 and 15 minutes for live chat and 10 minutes for email.
Starling Kite opening an account
You can only open a Starling Kite account if you already have an adult Starling personal account.
Starling Kite is only available to people who have already opened an adult personal account with Starling and this ensures that opening a Kite account is a quick and seamless process. Simply follow these steps:
Download the Starling Bank app onto your child's device by going to the App Store or Google Play
Select 'login'
Select 'Set up an app for Starling Kite'
Pair your two devices by selecting 'Get Started' on your child's device and selecting 'Manage Space' on your device
Select 'Set up an app'
Both devices should now display a 4 digit code. If they match then you simply need to tap 'Confirm'
Starling have a full UK banking licence and are authorised and regulated by the Financial Conduct Authority. In addition, there is protection for client funds as they are part of the Financial Services Compensation Scheme.
Being part of the FSCS means all client funds are protected up to the value of £85,000. Because Starling have a full UK banking licence, your funds are as safe here as they are with any traditional bank.
In addition, Starling Kite have some nice safety measures in place which allow parents to place greater protections on where their children can spend money. In addition, it is quick and easy to lock and unlock the pre-paid debit card from within the adult app. The app also has biometric identification and optional two-factor log-ins.
There is a cost associated with the Starling Kite account which pays for all the parental controls. Starling is not the most expensive option, nor is it the cheapest.
| | |
| --- | --- |
| Monthly Fees | £2 per child |
| Card fee | Free |
| Transaction fee | Free |
| UK ATM fee | Free |
| Loading fee | Free |
| Card replacement fee | Free |
Who is Starling Kite suitable for?
Starling Kite would probably be the best option for parents who already have a Starling account as this would make the set-up very quick and easy. Of course, there is the monthly fee to contend with, however, for parents looking for any level of control over their child's spending, this is unavoidable.
Alternatives to Starling Kite
|   | Age | Cost (per month) | Extra accounts | Child's app | Top-up fees |
| --- | --- | --- | --- | --- | --- |
| Starling Kite | 6-16 | £2 | £2 | Yes | None |
| GoHenry | 6-18 | £2.99 | £2.99 | Yes | 50 pence |
| Revolut | 7-17 | Free | up to £12.99 | Yes | None |
| Osper | 8-18 | £2.50 | £2.50 | Yes | 50 pence |
| Rooster-Money | 6-18 | £2.08 | £1.67 | Yes | 50 pence |
| HyperJar | 6-17 | Free | Free | No | None |
| nimbl | 6-18 | £2.49 | £2.49 | Yes | None |
Useful Information
This section contains useful information to make your experience at Starling Kite as seamless as possible.
How do I contact Starling Kite?
Starling can be contacted by email at [email protected]. However, for account holders, the best way to contact Starling is by using the Live Chat function from within the Starling app.
How do I close my account at Starling Kite?
In order to cancel your subscription to Starling Kite and close your account, you should head to the Spaces section within the app and tap on the child Space you want to cancel. From here you simply tap 'Manage' followed by 'Archive Space' and then follow the instructions on the screen.
What happens when my child turns 16?
Starling have also provided a Starling teen account which they can switch to when they are older, however, at 16 they will be eligible to apply for a full Starling account with access to all the features included with that. More information can be found about the teen accounts on the Starling website.
Starling Kite FAQs
Is Starling Kite any good?
Starling Kite is an excellent option for parents looking to engage their children in learning about independent money management whilst being able to set spending limits. However, they don't provide some of the educational tools that some of the other apps like Go Henry have and there is no interest baring account and no Junior ISA to encourage further saving and teach children about how compounding affects their own money.
It is also worth remembering that Starling won Best British Bank in the British Bank Awards three years in a row including in 2020.
Can friends and family contribute to my child's Starling Kite account?
In short no. Your child will not have an account number or sort code for relatives and friends to make contributions. However, it is possible for them to transfer to the adult account from where it can be transferred on.
Starling Kite Customer reviews
Most recent reviews:
There are no reviews yet. Be the first one to write one.
See which share tip is making the headlines

Have you considered transferring your pension?

Find the best trading platforms
*Capital at risk