Starling Bank is arguably one of the largest online banks available, offering a highly intuitive banking app through which you can manage all your banking needs solely online.
Starling is a popular option for people looking for an effective challenger bank with low-cost overseas spending and several account options, however, they lack any physical branches and cheques can take a long time to clear.
Winning Best British Bank in 2019 and 2020, and 2021 Starling Bank are leading the way in the challenger banks space, providing users with a Starling personal account that could easily replace their old current accounts.
In 2016 Starling Bank received their full UK banking licence, making them part of the Financial Services Compensation Scheme. This also provides scope for them to offer Starling Bank account holders plenty of banking features that meet all your everyday banking needs such as direct debits and personal loans.
Whilst conducting my detailed review, I found them to be one of the best app-only accounts available as well as being one of the only online bank accounts to offer their customers interest.
Deposit and Withdrawal:
90%
Pros
Several account options are available
Earn 0.05% interest
Fee free spending abroad with excellent exchange rates
24/7 live chat support
Cons
Cash deposits at Post Office branches only
No physical branches

Who is Starling?
Launched in 2014, Starling is a fully licenced, regulated, online challenger bank that provides customers with a UK mobile-only bank account that is managed through the innovative Starling Bank App.
Starling customers receive a contactless Mastercard debit card which can be used for purchases and ATM withdrawals. Money can also be sent and received with ease through the Starling full UK bank account where customers can also receive their salary.
Starling also provide business accounts, joint accounts, and Euro accounts.
Who owns Starling?
Starling is an independent, privately-owned company founded by Anne Boden, taking her previous experience at Bank of Scotland and Allied Irish Bank to provide customers with an innovative, modern, alternative to traditional banking.
Starling Bank product overview
Starling have several account options that come with interest payments, an account number, and a sort code.
Of course, being an online bank they also offer a host of other features to help make banking as easy as possible.
Starling current account
The free Current Account at Starling can be set up from your phone in about five minutes. You can start receiving payments immediately, including your salary, set up standing orders and arrange your direct debits. Upon registering your UK current account, your new contactless Mastercard will be despatched to you.
Some of the features you can enjoy with your Starling current account include:
24/7 support – with an actual human being
Instant transaction notifications – the moment money enters or leaves your account
Savings goals – via Starlings virtual piggy banks, allowing you to put money to one side and automatically round up transactions
Categorised spending insights – so you can see exactly how you are spending your money
Financial products – connect to other products such as mortgages, insurance or pensions
Payment solutions – that can help you settle IOUs with a payment link, pay bills, or send money to other Starling users
Locking feature – ability to lock your card within the app, adding to your general security and saving time trying to reach your bank
Current account switching service – to help move your finances across seamlessly
Fee free-spending overseas – when you use your card either to purchase goods or withdraw money at an ATM
Get an overdraft – should you be eligible and control it within your app
Deposit cheques – in seconds using your phone camera
Deposit cash – at any Post Office
Earn interest – at 0.05% AER on current account balances over £85,000
Mobile payments – Apple Pay, Google Pay, Garmin Pay and Samsung Pay
Additional Connected card – to give to trusted friends and family to purchase goods on your behalf. You can put restrictions on this card such as no gambling transactions.
How easy is it to switch your personal account to Starling?
Worried about switching? Don't be! Starling do all the hard work for you as part of their current account switch service. All you have to do is supply them with the details of your current personal account and Starling Bank will make sure all outgoing payments, payees you've set up, standing orders and Direct Debits are all switched across to your new account.
Reasons not to move your current account to Starling
There are times you should hesitate to do a complete switch to Starling Bank and close your old current account. One of these is if you regularly use your overdraft. Just because you were approved for an overdraft at your current bank, does not mean that you will automatically be approved for an overdraft at Starling Bank. It would be best to check this before completing the switch in its entirety.
Another factor to be aware of are the withdrawal limits at Starling Bank which may be lower than what you currently have. You have a maximum of six withdrawals a day up to a limit of £300. There is also a limit of £20,000 for cash deposits at Post Offices.
3 reasons for moving your current account to Starling
Whilst Starling Bank do offer a full plethora of features and services associated with the Starling Current Account, many of these are also found within the banking apps of traditional banks who are now adapting to meet the move to online banking.
However, there are a few areas where Starling Bank will often stand out from their high street counterpart.
Interest paid on your account is 0.05% at Starling Bank whereas many high street banks will only offer interest on their savings accounts.
APR on an arranged overdraft is 15% which is less than half of what you are charged at most traditional banks.
International ATM withdrawals are free at Starling Bank but often cost £3 for a traditional bank.

Starling joint account
To open a Starling Bank joint account, both parties must first have a personal account. However, setting up a Starling join account can be done quickly and easily from within the Starling app.
A Starling joint account makes it easy to save for common goals, pay household bills, and get spending insights and payment notifications.
Things to consider before opening a Starling joint account
1. Credit scores – When opening a joint account your credit history for each person will be linked. This means that your joint credit scores may be impact each other. You should check your credit scores before you apply for a joint account
2. Savings – If you have savings goals to share with each other, you can use Starling Saving Spaces in your joint account. This allows you to ring-fence your savings amount away from your main balance.
3. Budgeting – Starling has a neat budget planner to allow you to calculate your most important outgoings.
4. Spending habits – Make sure you understand each other's spending habits before opening a joint account.
5. Trust – Don't forget, if your joint account goes overdrawn you are both responsible for the debt. You will both get notifications on money in and out of the joint account.
Starling Euro account
Having a current account at Starling Bank also provides you with optional access to the Starling Euro Account. This is a great addition for people who travel regularly to Europe and would benefit from being able to buy goods in the local currency.
With the Euro Account you can use your existing Starling card to withdraw money abroad and avoid all the excessive fees you will be paying at your traditional bank. You will be charged the MasterCard exchange rate which is near to perfect. You can also use your Euro Account to send money abroad and receive Euro without paying fees and commission charges.
Starling Kite account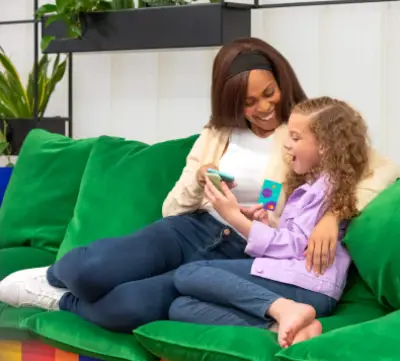 Starling Kite is a debit card account for kids and comes with a monthly fee of £2 for each child, which still comes in cheaper than other kids accounts such as Go Henry which charge £2.99.
Starlling Kite comes with all the usual features such as instant notifications, the ability to transfer money instantly, set up regular payments, set savings goals, utilise round-ups, summarise spending, set spending limits and spend overseas without any additional fees.
As a parent, you will have instant notifications when your child spends money, the ability to set where the card can be used and instant card locking when your child loses their card.
For more information please go to my full Starling Kite Review.
Starling Teen Bank Account
This gives children more independence with their banking with an account that is no longer linked to their parent's account. Teen accounts come with a MasterCard debit card and earn 0.05% AER interest on Starling account balances up to £85,000.
The teen account can also be used with Apple Pay, Google Pay or Samsung Pay which is handy for occasions when they have lost or forgotten their card. There are all the usual features such as saving goals, IOU payment links, nearby payments and the ability to lock the card from within the app.
Starling business account
Starling have won awards for their business account and unlike a lot of the other digital business accounts out there, business account holders are charged zero fees or UK payment charges.
However, in order to access the add-ons such as invoice helper, tax tools, Euro account, and USD business account, there will be monthly fees. However, Starling Bank have managed to keep these all low and accessible. The business account also supports the switch service, so it's easy to move to Starling Bank.
Starling Bank also provide a business account for sole traders which is stacked with features including:
Instant payment alerts
Ability to capture receipts in the app
Automate your expenses to make your self-assessment tax return seamless
Connect to business tools such as accounting software or insurance
Separate overheads in goals
Deposit cheques in-app and cash at the Post Office
Starling Bank Marketplace
To take business banking one step further, Starling Bank offer Business Marketplace, with a host of money management tools and services to make running a business easier. This includes smart integration with:
Bionic
CyberSmart
Dinghy
Equipsme
Flux
FreeAgent
Zettle
Molo
Nimbla
Paystream
Penfold
PensionBee
QuickBooks
Slack
So-sure
Sparqa Legal
SumUp
Superscript
Tail
Xero
International money transfers
International transfers can be done to 38 different countries at the mid-market rate which is excellent and will most certainly beat anything you are offered at a traditional bank.
From this perspective, it is definitely worth moving your banking across to Starling. There are no hidden fees and Starling will even guarantee your rate for 30 seconds so you can be assured of the rate you've been quoted.
Starling Bank Personal Loan
There are not many challenger banks that offer personal loans and sadly Starling have withdrawn this option from their personal banking suite of offers. However, Starling are still offering an overdraft facility with an eligibility checker on their website.
Starling Bank Fees
Starling Bank comes in as one of the lowest cost options available for banking.
There are some costs associated with upgrading your account and an overdraft cost to be aware of which I have detailed below.
Starling Bank fees at a glance
| | |
| --- | --- |
| Additional personal account | £2 per month |
| Overdraft | 15% AER per month |
| International payments | 0.4% |
| SWIFT transfers | £5.50 |
| Euro business account | £2 per month |
| US dollar business account | £5 per month |
| The business toolkit | £7 per month |
Guide to opening a Starling Bank account
To open a Starling account you must be a UK resident however you can complete your entire Starling account opening from your phone which certainly beats showing up at your high street bank.

Just follow these 4 steps to open a personal bank account with Starling Bank:
Supply some basic personal information including full name, address, nationality, date of birth, email address and phone number
Verify your identity simply by sending a photo of your passport or driving licence alongside a video verification holding your ID beside your face whilst reading an on-screen sentence
Clarify how you intend to fund your account i.e. salary
You can then use your new account number and sort code to deposit money into your new account
Once you have completed this process your MasterCard debit card will be dispatched to your address, after which you will be required to activate your Starling Bank card following the enclosed instructions.
Some users have complained about the amount of personal details required and in particular the video verification process. However, this is to ensure that stringent security measures are in place, and Starling are required to complete this level of verification as part of their authorisation.
Is Starling Bank safe to use?
Starling Bank have their full UK banking licence and are therefore bound by the strict regulations that are in place to keep client funds safe. They are authorised and regulated by the Financial Conduct Authority and all client money is protected by the Financial Services Compensation Scheme. This ensures that should Starling go bust for any reason whatsoever, your funds are protected up to the value of £85,000 for each individual.
Starling also make it easy for account holders to set transaction limits and freeze their cards should they get lost or stolen. They also engage biometric identification and an optional two-factor log-in to access your account.
This makes Starling a completely regulated bank and a safe online bank, as you would expect of any traditional bank.
Starling Bank app review
Starling Bank have scored an impressive 4.9 out of 5 on the app store and it's easy to see why. The app is flawlessly designed to make navigating your Starling account as easy and seamless as possible and there is every functionality you could possibly need.
When it comes to budgeting the app really does take banking to the next level, with all the information you could possibly need right at your fingertips.
Starling customer service review 
Starling provide customer service via live chat, phone and email. Whilst their TrustPilot customer reviews reveal a few disenchanted customers when it comes to support, my own experience was generally positive. Wait times appear to average around 5 to 15 minutes and the support staff are knowledgeable and helpful.
Starling useful information
Is Starling Bank any good?
In the world of online banks it's brilliant.
Would I use it as my sole bank account? Definitely yes.
Now that Starling have upgraded their service to support web-based banking, I can't see any reason why you wouldn't switch over.
The additional features and tools that you can access with Starling, not to mention the full range of bank accounts on offer, really do make this the future of banking!
How do I contact Starling?
You can contact Starling via the live chat feature within the Starling app. Alternatively, their contact details are as follows:
Starling Bank Address: 3rd floor, 2 Finsbury Avenue, London, EC2M 2PP
Starling Telephone: 0207 930 4450
Email:

[email protected]
Does Starling have a monthly fee?
The basic UK current account at Starling is completely free of any monthly fees. The only Starling accounts with fees associated are the upgraded business accounts.
Who is Starling suitable for?
Starling is an excellent option for frequent travellers and anyone who is comfortable managing all their finances through their smartphone.
Individuals who struggle with this level of technology may find the concept behind Starling's mobile banking a challenge, although there is the option to manage your account via online banking on your PC or laptop. You'll still need your mobile phone to access online banking via a barcode to scan and approve the login.
The other consideration is whether you often have to deposit physical cash as with Starling you are only able to deposit funds at the Post Office due to the lack of physical branches.
Starling is also a brilliant solution for people looking to save money with round-ups and virtual piggy banks helping you achieve your goals.
Where are Starling cards accepted?
The card you receive at Starling is a MasterCard debit card. This can be used anywhere MasterCard is accepted which is most places across the globe. As well as this broad global reach, you can link your card to your mobile wallet and pay using Apple Pay, Google Pay, Samsung Pay and Fitbit Pay.
Do Starling Bank do credit checks?
Yes, when you apply for an account at Starling they will automatically conduct a credit check with a UK Credit Reference Agency. This will then be used should you wish to apply for a Starling overdraft.
How do I deposit money into my Starling account?
Depositing money into your Starling account is easy. Transfers from another account can be done quickly using bank transfer. For cheques, Starling have recently introduced their cheque scanning option using your smartphone camera which can be completed in seconds. Cash can be paid in via any Post Office throughout the UK.
What is the starling bank sort code?
The Starling bank sort code is 60-83-71. Because Starling is an online only bank there is only one sort code.
Starling FAQs
Which is better, Monzo or Starling?
If you are withdrawing cash abroad, then Starling would be a better choice than Monzo as they charge zero fees to withdraw cash from an ATM or spending transactions, whereas Monzo have limits on the amount you can withdraw without incurring fees.
The other consideration is that Monzo have yet to offer interest on their free account and as yet do not offer the app cheque imaging that you will find at Starling.
How do I close my Starling Bank account?
Closing your account is quick and easy at Starling. The first thing to do is ensure you have transferred out any remaining balance. Then all that remains to do is to contact customer service and request that your account be closed ensuring all payments, direct debits, and standing orders are cancelled.
If you have any money owing to Starling in the form of an overdraft, then this will need to be repaid prior to closing your account.
Starling Bank Customer reviews
Most recent reviews:
Very pleased with Starling which I have now had a bank account with a for a couple of years. Effortless efficient banking, good app and the fee-free overseas transactions which is extremely welcome, both for cash machine withdraws and when using the debit card for goods and services. Why pay fees when overseas, as you do with most other bank accounts, when you don't need to?
I recently had my Starling Debit card swallowed when attempting to use a car wash in France (fault with the machine, not card). So immediately cancelled that card and ordered a new one on the Starling app; but it then gave me the option of using the new card immediately via the app / Google wallet. So, I was up and running with a new card I could use for contactless payments via my phone within a matter of minutes of losing my old one. Very impressive! Needless to say, when I returned home to the UK a few days later the physical replacement card was waiting on my doormat as well.
Likes
Fees
Account opening
Deposit and withdrawal
Customer service
See which share tip is making the headlines

Have you considered transferring your pension?

Find the best trading platforms
*Capital at risk